25 October 2023
Principals Report
Welcome Back!
This being the first newsletter of Term 4, I wish to welcome all members of the school community back after the holidays. It seems the students generally had a wonderful break and have come back with their batteries charged. The teachers have prepared a range of engaging and educational activities for the term, which will be outlined in the term overviews that they have, or are about to, send out to each class' parents.
And two special welcomes: firstly, to those students starting at the school this term – we hope you have a wonderful experience at Albuera Street Primary School. Secondly, a huge welcome back to our wonderful TA Kate New; we are so happy to have you back working with us.
Evidences of Learning
As the school develops its own structures to meet the new reporting guidelines, we would greatly appreciate parents' feedback around the Evidences of Learning (EoLs) that you have received so far. These student work samples, accompanied with teacher ratings and suggested next steps, will continue to form a major part of our reporting to parents. Please take five minutes to complete the online survey to assist us in improving our information sharing. Thank you to those parents that have already shared their thoughts.
Lifting the Lid on Healthy Minds
On Thursday November 9th, the Community Connections leadership group will be running a fundraiser for Mental Health awareness. Students are invited to wear a hat of their choice (the crazier the better!) to help raise awareness of Mental Health and to raise funds to support research in this important area that affects 1 in 5 Australians. More information coming soon.
Student Wellbeing
On Monday, three of our class teachers worked together to develop, refine and add to our school wellbeing resources. This is to ensure we continue providing research-based explicit teaching and learning in this area. We look forward to further developing our students' skills in handling personal and social challenges in a positive way.
This term our value is Aspiration, where everyone is encouraged to for personal bests!
This week the school has also received the results of the Student Wellbeing and Engagement survey that all Year 4-6 students completed last term. We will be sharing some of the results of the survey in the near future.
PAT Testing
During weeks two, three and four, all students from Prep to Year 6 will be completing two PAT assessments (Maths and Reading). While the results provide valuable individual information, the findings are also used to identify trends in each year group and to inform teaching and learning focuses for future years. Thank you to Eldon Jenkin for timetabling and running this process.
Sporting Successes
Congratulations to the following students who competed in the SPSSA Champions Athletics Carnival on Monday October 16th – and well done to both students and parents for remembering on the first day back this term!
ASPS student representatives were: Dominic, Jingyu, Charlotte, Lachlan, Oliver, Stacey and Euan.
Next Thursday, November 2nd, 37 students will represent our school at the SPSSA Division B Swimming Carnival, hosted at the Doone Kennedy Hobart Aquatic Centre. Congratulations to all the students for making the team; we wish them – and accompanying staff – the best of luck as they do Albuera Street Primary School proud.
Year 6s – Transition Time!
A number of our Year Six students attended Taroona High School for their Taster Day, where they met over 200 other Year Six students that will be attending THS in 2024. The students were provided a taste of what high school life will be like, being involved in classes such as MDT, Science, Food Tech, Art and Drama. They also took part in a scavenger hunt to assist them in developing an overview of the school layout. Thanks to Taroona High School for a wonderful day.
Reminder – Public Holiday and Student Free Day
A reminder to all parents that this Thursday, October 26th, is a public holiday. Friday October 27th is a Student Free Day, where teachers will be engaging in professional learning around Learner Assets, Safeguarding Students and Maths. We wish you an enjoyable 4-day long weekend!
Mrs Waldon – update
I am happy to report that Mrs Waldon is mending well and is on track to return to us at school in week four of this term. We miss you Mrs Waldon and look forward to having you back.
Steve Jeffrey
Acting Principal
Nut Allergy – Reminder
We have a number of students in our school who are allergic to nuts and nut products. Exposure to nuts can trigger an allergic reaction and be life-threatening for these students, so please avoid sending nuts or nut based products to school. We aim to keep our school as nut-free as possible to keep our students safe.
New online information hub for families
Some exciting news! The Department for Education, Children and Young People has recently launched a new online information hub for families with school-aged children in Tasmania. Our new website has information to help you navigate your child's education, from birth all the way up to 18 years of age.
Visit our new webpage at Welcome to your child's Tasmanian education - The Department for Education, Children and Young People Tasmania (decyp.tas.gov.au) (https://www.decyp.tas.gov.au/information-for-families-and-students)
Some of the things you'll find include
tips on how to support your child's learning at home
information to help you keep your child safe and well
a guide to explore courses for the career they want
school holiday and term dates.
We hope this website will be a valuable tool for you as you help your child navigate their education journey. We would love to know what you think of our new information hub for families. You can tell us by completing a quick survey on the webpage.
Launching into Learning
LiL will be on Thursday afternoon this year at 1.45 pm to 2.45.
For the reminder of the year LiL will be off-site due to pre-Kinder operating.
See Off-site flyer below;
Kindergarten 2024
Out-of-area expressions of interest for Kindergarten 2024 are now being accepted. Forms are available on the - Forms and Documents – on side panel with this newsletter.
Kindergarten Enrolment Form
Canteen
Canteen Specials
27th October and 3rd November 2023
27th October Student Free Day. No canteen
3rd November
Recess: Sweet Special: Hummingbird Cake
Fruit Muffin: Strawberry
Savoury Special: Savoury turnovers (Contains Meat)
Lunch: Fried Rice with egg (no egg on request before Thursday 10.00. Text me on 0417 559 920)
Volunteers
I still need volunteers on these dates
3rd November 1 person
10th November 1 person
17th November 2 people
24th November 2 people
1St December 2 people
8th December 1 people
15th December 2 people.
If you are able to help, please contact the office or me directly on 0417 559 920.
Thanks
Caron Summers
Canteen Manager
Canteen Helper
Please remember to choose the correct order date on the Qkr! App.
Student Voice
Grade 2 B
Grade 2 Bilbies
Grade 2s were asked to write 4 sentences about themselves, three being truths and one being a lie. We then read them to the class to see if they could work out which one was the lie. Can you guess?
Prev
Showing images
1 - 8
of 19
Next
Grade 4/5W
Extra! Extra! Read all about it!
The students of 4/5W have launched into learning with this term's inquiry on newspapers. The inquiry opened with students analysing the different parts of a newspaper, including the main parts of a newspaper article. By the end of the first week, the students created works that contained eye-catching headlines, bylines and intriguing leading sentences.
Have a look at what they have created!
Miss Hastings & Mr Williams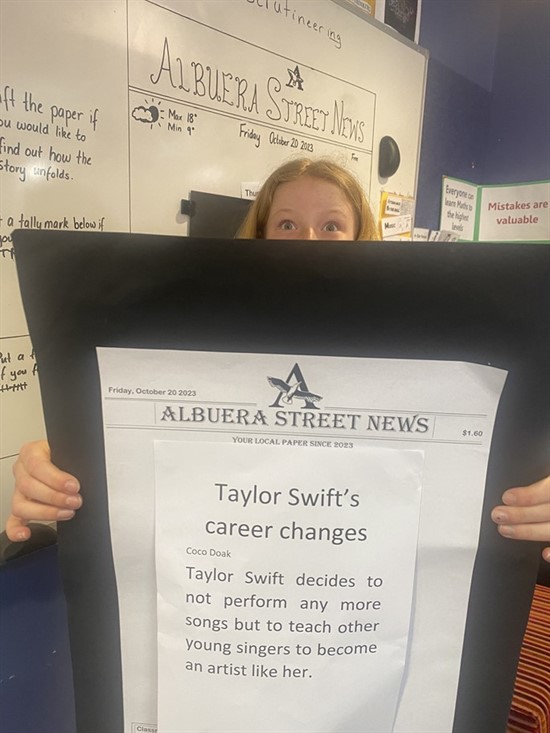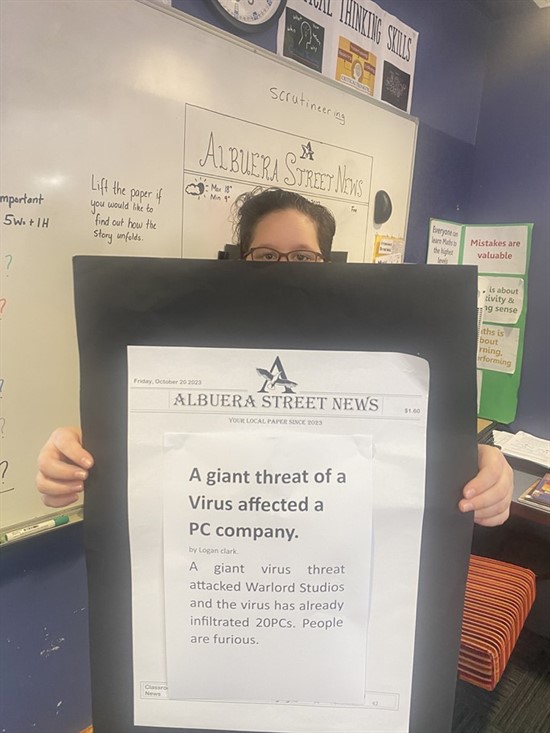 Prev
Showing images
1 - 8
of 20
Next
Library
Larrikin House Book Club is now open. Closing date is 10th November. Order online from home Book Club – Larrikin House
We get a percentage of sales to purchase books for the school.
Veronica Brunton
Uniform Times
This year as we are setting times available for the purchase of uniforms.
Tuesdays: 2.30pm to 3.00pm
Thursdays: 8.30 am to 9.15am
Orders can be made and paid for over the phone and be ready to pick up at an arranged time if the above times do not suit you.
LEVIES REMINDER
Thank you to parents who have paid levies and to those who are making regular payments. Levies are now overdue, if you are experiencing difficulties with making payments, please contact Annette and discuss a payment plan. Payments can be made weekly, fortnightly or monthly.
Payment Options
BPay, Service Tasmania, Eftpos
Credit Card over the phone (6223 2268)
Cheque payable to Albuera Street Primary School
Levy Instalment Plan (Please contact reggett@education.tas.gov.au or 6223 2268)
Student Medications
It is a Department of Education requirement that all medications to be taken by students during the school day are to be passed into the office or teacher in charge of an excursion or camp. The medications require a signed doctor/pharmacist as well as parent permission form (these forms are available in the Forms and Documents panel in the newsletter or at the office). The medication is also to be in the original packaging so that staff know what they are administering. Thank you for your cooperation in this matter.
Medical Action Plans
Every child at Albuera Street Primary with a medical condition needs to supply an updated medical plan to the school each year, especially those with Anaphylaxis and Asthma. Staff from Albuera have been trained in Anaphylaxis using EpiPens and also in Ventolin administration for Asthma. If you are new to the school and your child has a medical condition please come into the office and collect an appropriate action plan form, or if you just have questions please don't hesitate to phone the school.
Vulnerable People Card Reminder
Sign In Requirements and Checks
New requirements for record keeping have been in effect from August 2018 which specifies that all sites are required to keep visitor sign in registers. All volunteers, external providers, contractors and visitors (where appropriate) must sign in using the visitor register.
A DoE site must request the RWVP card and perform a status check via the DoJ website each time someone presents at or attends a site in their respective capacity. The status check will return current information and indicate any conditions applying to a registration.
If a search fails to return information, this indicates a change in registration has occurred. DoE staff at the worksite must sign off on the visitor register to confirm that RWVP verification has occurred.
The Department requirement is that you must present your RWVP card EVERY time you sign in.
Information for those who need to apply for WWVP card
To volunteer at this school, you will be required to hold a "Registration to Work with Vulnerable People". It is extremely important that parent helpers and volunteers are registered and Albuera Street Primary School is recorded in your application.
How to apply for a WWVP Card
Complete the online application form. This is available from the website at the link below:

Chose Department of Education from the organisation drop-down box and also select Albuera Street Primary School from the location drop-down box. Please remember each time to volunteer at the school you need to bring your card each time.
Sickness
Parents/carers are reminded to advise the school office if their child is unable to attend school due to illness or any other reason.
By phone (62232268) leave a message anytime on the answering machine.

Schoolzine – click on the absentee tab
A medical certificate is required if a child is absent due to illness for 5 days or more
After School Care
ASC is provided on site by Lady Gowrie Child Care Services (Ph: 6230 6806).
ASC is available from 3.00 pm to 6.00 pm each school day and 1.00pm – 3.00pm Thursday for Kinder.
Term Dates for 2024
| | |
| --- | --- |
| Term 1 | Thurs 8th February – Fri 12th April (EASTER break – 29th March - 2nd April) |
| Term 2 | Mon 29th April – Fri 5th July |
| Term 3 | Mon 22nd July – Fri 27th Sept |
| Term 4 | Mon 14th Oct – Thurs 19th Dec |
Community Notices