13 September 2023
Principals Report
Spring has sprung. Here are some daffodils from the P/1 Devils.
Now that September is here all students need to wear their hats when outside at recess and lunch.
No hat – play in the shade.
Learner Assets -
Kinders have been learning about their brains and how to be a thinker. Here they are thinking about what could possibly be in the box.
We encourage all our students to question and be curious so we can be critical and creative thinkers.
Evidences of Learning and Parent Conversations –
This week students will receive student work samples in Science and HASS. Some of these will be the culmination of a unit of learning others will be a snapshot of the learning that has been taking place. All will connect to the Australian Curriculum.
There is the option for parents and carers to have a phone conversation with their child's teacher. The booking portal opens today - 13/9/23.
Class Requests for 2024 -
Every year we go through a thorough and time-consuming process organising students into the following year's classes. We ask students about their friendships and give parents the opportunity to make requests. We cannot guarantee that requests are fulfilled, as we are limited by class numbers and other parent, staff and student needs.
Please email me with any requests by Friday 20th October, the end of week 1, term 4.
If you plan to send your child to another school for 2024, please let us know as soon as possible as this affects our planning for classes.
Gardening Grant -
Thank you, Woolworths, for the $1000 grant that has allowed us to buy these items for our garden. Thank you, Caroline, for applying for the grant and purchasing the items.
Assembly -
Our last assembly was filled with examples of our student learning. We had some excellent musical items, had the Learner Assets explained to us by 3/4B and some of our school leaders talked about how we can improve our school by being more responsible for the rubbish we see around the school. We will have a focus on this coming from a sense of respect for country and how we are all responsible for looking after our school. Some of our indigenous students are keen to help with this.
Parent Tip –
On Leave –
From the 27th September to the 7th November, I will be on leave having my second hip replacement. During that time Mr Steve Jeffrey will be Acting Principal, Mrs Kerrin McKeown will continue as AST and Mr Eldon Jenkin will be Acting AST. While Mr Jenkin will be off class three days a week performing AST duties, Mrs Julie Creed will be taking he class.
Jo Waldon
Principal
ASPS Soccer World Cup 2023
For the past six weeks, some of us house captains, Ayumi, Kiara, Lily, Pyper and Lachlan, have organised and run the 2023 ASPS Soccer World Cup. There were 8 teams who played many games over the six weeks. The grand final was played on Wednesday 6th of August and the two teams were Argentina vs Japan. Japan won by 4 – 0. The following players were in the winning team and won a Freddo Frog. Ryuga, Oliver. R, Alex. N, Patrick, Tawana, Ellie, Charlotte, and Vuthyka.
We hope all members of the 8 teams had lots of fun and enjoyed playing.
As leaders, we enjoyed the opportunity to learn about organisation, umpiring and leadership.
Thank you to all who participated!
School Association Movie Night
Nut Allergy – Reminder
We have a number of students in our school who are allergic to nuts and nut products. Exposure to nuts can trigger an allergic reaction and be life-threatening for these students, so please avoid sending nuts or nut based products to school. We aim to keep our school as nut-free as possible to keep our students safe.
Safeguarding News Update
Further to my previous newsletter items, I would like to share a Tasmanian Government website that is now live.
This website is where children and young people, and other members of the community, are able to go to get information and advice if they have any concerns about child abuse. The website is being supported by a multimedia campaign over coming months designed to raise awareness of child sexual abuse and grooming. It also provides information, support, and contacts for individuals impacted by child abuse. I have attached a copy of the opening page.
There is also another site called – Kids Help line – kidshelpline.com.au - (anytime, any reason) – 1800 55 1800.
Regards
Mark
Safeguarding Lead – Albuera Street Primary
New online information hub for families
Some exciting news! The Department for Education, Children and Young People has recently launched a new online information hub for families with school-aged children in Tasmania. Our new website has information to help you navigate your child's education, from birth all the way up to 18 years of age.
Visit our new webpage at Welcome to your child's Tasmanian education - The Department for Education, Children and Young People Tasmania)
Some of the things you'll find include
tips on how to support your child's learning at home
information to help you keep your child safe and well
a guide to explore courses for the career they want
school holiday and term dates.
We hope this website will be a valuable tool for you as you help your child navigate their education journey. We would love to know what you think of our new information hub for families. You can tell us by completing a quick survey on the webpage.
Launching into Learning
LiL will be on Thursday afternoon this year at 1.45 pm to 2.45.
Kindergarten 2024
Out-of-area expressions of interest for Kindergarten 2024 are now being accepted. Forms are available on the - Forms and Documents – on side panel with this newsletter.
Kindergarten Enrolment Form
COVID-safe behaviours reminder
COVID-19 and other respiratory illnesses (like the flu) are still circulating in Tasmania. The official COVID-19 risk level has been raised to 'Moderate'.
Together, we need to keep practising our COVID-safe behaviours to manage the risk.
Simple things we can do:
do not come to school if unwell – stay home and test
stay at home while you have symptoms, regardless of the result of a rapid antigen test (RAT)
cover coughs and sneezes and wash your hands with soap and water, or alcohol-based sanitiser
try to stay a reasonable distance away from others when you can
consider wearing a face mask if you wish to – they are readily available for use at the school.
All students should ensure they have access to a quantity of RATs. If you need RATs, please ask for them at the school office so they are in your home ready for use if symptoms develop.
If you have any questions or concerns, please do not hesitate to contact the school office.
For any COVID-19 enquiries, please contact the Tasmanian Public Health Hotline on 1800 671 738, or Department of Education COVID-19 Support Hotline at COVID19support@education.tas.gov.au or on 1800 816 057.
If you need support translating or interpreting this information, contact the Translating and Interpreting Service on 131 450.
Canteen 2023
15 September 2023
Recess: Sweet special: Apple Cake Fruit Muffin: Mixed Berry
Savoury Special: Pizza Scrolls (contains salami)*
*Vegetarian option available on request
Lunch: Gnocchi with a Tomato Sauce (vegetarian)
22 September 2023
PLEASE NOTE
This will be the last canteen for term 3
Recess: Sweet special: Apple Crumble with custard Fruit Muffin: Blueberry
Savoury Special: Margherita Pizza
Lunch: Goulash (A really yummy beef stew) with rice.
29th September. NO CANTEEN
Due to being unable to find sufficient volunteers, there will be no canteen on the last Friday of the term.
Thanks to all the people who have kindly volunteered during this term.
Volunteers required in term 4
The canteen will not start operating in term 4 until I have guaranteed assistance. The canteen is an enjoyable end to the week for many students and a relief many parents struggling to create another lunch. But it cannot operate without the kind help of parents, grandparents, older siblings, please contact me on 0417 559 920.
Dates term 4: October 20
October 27 No Canteen (Show day)
November 3, 10, 17, and 24
December 1, 8, and 15
Price Rises
Due to the rise in the cost of ingredients, I regret to announce price rises for some canteen items starting at the beginning of term 4. A list will be made available at the start of the term.
Caron Summers Canteen Manager.
Canteen Helper
Please remember to choose the correct order date on the Qkr! App.
Student Voice
Kinder Pears
We have been learning about what is inside our body this term in Kinder Pears. We have enjoyed exploring our senses and last week we deepened our understandings about our brains. We read the book 'Our Fantastic Elastic Brain' and thought about what we would like to use our brains to do in the short term and when we grow up. It's exciting to think that our Kinders are on the pathway to being artists, florists, daycarers, bug-catchers, ballerinas, vets, nurses, firefighters, skate-board-riding Police Officers, and most popularly – drivers of cars!
Miguel's dad Martin and mum Tina came in to Kinder to help us learn about the brain. Martin's job is to helps fix brains where the blood supply isn't right. The Pears enjoyed learning about the brain, how soft it is, what it does and how we can look after it. We made 'brain jellies' to have a hands-on experience of how our hard skull protects our soft brain. We did marble paintings to create neuronal connections. We are learning about how a range of experiences, trying hard, and making mistakes are wonderful for our brains, however old they are!
In Kinder we are looking forward to rounding out the term with a Teddy Health Clinic Day, an excursion to move and groove our bodies at the PCYC, and a Talk-like-a-Pirate Day (just because it's fun!).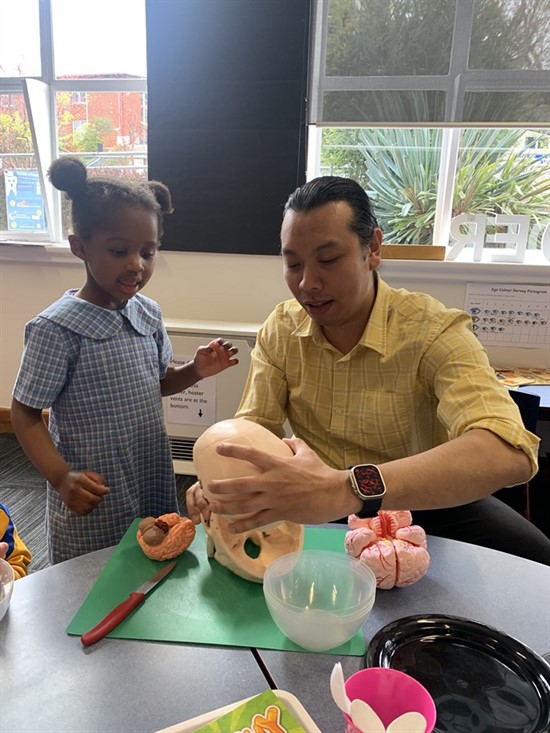 Prev
Showing images
1 - 8
of 10
Next
Grade 5/6DJ
5/6DJ have been focusing on Democracy in Term 3. Here are some of our brochures and posters which explain the three levels of government in Australia.
We have also been focusing on the writing trait of organisation, and specifically, pacing. This is where the author chooses to zoom in, or provide extra detail, on the more important parts of the story and zoom out, or provide few, if any, details, on the less important parts of the story.
We practised this by completing a short story based on the title, "A Rude Awakening."
We hope you enjoy some of our completed narratives.
Prev
Showing images
1 - 8
of 18
Next
Entertainment Membership
Link below for entertainment book to purchase.
Masks update
Public Health has advised that from Monday 27 June 2022, face masks are no longer mandatory in schools and Child and Family Learning Centres. This is because of reduced COVID-19 cases in our community.
It's important to continue to:
stay at home if unwell, and get tested
practise COVID-safe behaviours such as frequent handwashing and sanitising
be up to date with your COVID-19 vaccinations
Students, staff and visitors are supported to continue to wear face masks if they choose to. Face masks are still available at our school if you need them.
When face masks are required
If you're a close contact , you are still required to wear a face mask indoors as per current Public Health advice.
From time-to-time our school might identify activities or situations where masks are required to be worn. We ask for your support when this happens and know that it is in the best interests of our students, staff and our school.
Our staff will continue to wear masks when working closely with students who are vulnerable to COVID-19.
If you have any questions or concerns, please contact us directly to discuss.
For more information about COVID-19, please visit the Tasmanian Government Coronavirus website or contact the Tasmanian Public Health Hotline on 1800 671 738, or Department of Education COVID-19 Support Hotline at COVID19support@education.tas.gov.au  or on 1800 816 057.
If you need support translating or interpreting this information, contact the Translating and Interpreting Service on 131 450.
Uniform Times
This year as we are setting times available for the purchase of uniforms.
Tuesdays: 2.30pm to 3.00pm
Thursdays: 8.30 am to 9.15am
Orders can be made and paid for over the phone and be ready to pick up at an arranged time if the above times do not suit you.
LEVIES REMINDER
Thank you to parents who have paid levies and to those who are making regular payments. Levies are now overdue, if you are experiencing difficulties with making payments, please contact Annette and discuss a payment plan. Payments can be made weekly, fortnightly or monthly.
Payment Options
BPay, Service Tasmania, Eftpos
Credit Card over the phone (6223 2268)
Cheque payable to Albuera Street Primary School
Levy Instalment Plan (Please contact reggett@education.tas.gov.au or 6223 2268)
Student Medications
It is a Department of Education requirement that all medications to be taken by students during the school day are to be passed into the office or teacher in charge of an excursion or camp. The medications require a signed doctor/pharmacist as well as parent permission form (these forms are available in the Forms and Documents panel in the newsletter or at the office). The medication is also to be in the original packaging so that staff know what they are administering. Thank you for your cooperation in this matter.
Medical Action Plans
Every child at Albuera Street Primary with a medical condition needs to supply an updated medical plan to the school each year, especially those with Anaphylaxis and Asthma. Staff from Albuera have been trained in Anaphylaxis using EpiPens and also in Ventolin administration for Asthma. If you are new to the school and your child has a medical condition please come into the office and collect an appropriate action plan form, or if you just have questions please don't hesitate to phone the school.
Vulnerable People Card Reminder
Sign In Requirements and Checks
New requirements for record keeping have been in effect from August 2018 which specifies that all sites are required to keep visitor sign in registers. All volunteers, external providers, contractors and visitors (where appropriate) must sign in using the visitor register.
A DoE site must request the RWVP card and perform a status check via the DoJ website each time someone presents at or attends a site in their respective capacity. The status check will return current information and indicate any conditions applying to a registration.
If a search fails to return information, this indicates a change in registration has occurred. DoE staff at the worksite must sign off on the visitor register to confirm that RWVP verification has occurred.
The Department requirement is that you must present your RWVP card EVERY time you sign in.
Information for those who need to apply for WWVP card
To volunteer at this school, you will be required to hold a "Registration to Work with Vulnerable People". It is extremely important that parent helpers and volunteers are registered and Albuera Street Primary School is recorded in your application.
How to apply for a WWVP Card
Complete the online application form. This is available from the website at the link below:

Chose Department of Education from the organisation drop-down box and also select Albuera Street Primary School from the location drop-down box. Please remember each time to volunteer at the school you need to bring your card each time.
Sickness
Parents/carers are reminded to advise the school office if their child is unable to attend school due to illness or any other reason.
By phone (62232268) leave a message anytime on the answering machine.

Schoolzine – click on the absentee tab
A medical certificate is required if a child is absent due to illness for 5 days or more
After School Care
ASC is provided on site by Lady Gowrie Child Care Services (Ph: 6230 6806).
ASC is available from 3.00 pm to 6.00 pm each school day and 1.00pm – 3.00pm Thursday for Kinder.
Merit Certificates
August 11, 2023
Prep/1 Jenkin
Sian, excellent mathematic skills.
Walter, being a brave and confident performer.
Thea, inquiry based learning skills.
Prep/1 Corrigan-Foster
Jimmy, a fabulous start to being an Albuera Street Tasmanian Devil.
Gr 1/2 Parker
Olive, using her strength of bravery every day to be the best learner.
Harriet, great problem solving and thinking in maths.
Bernie, amazing progress with his writing.
Gregory, a fantastic start at Albuera Street Primary School
Gr 2 Baird/Adderton
Lotti, her excellent contributions during class discussions.
Theo, a fantastic start at Albuera Street.
Audrey, using the learner assets of thinker and contributor during maths talks.
3/4 Burnett
Mahli for putting time and effort into her work and not rushing.
Felicity, her positive and bubbly energy she shares with the class.
Jamphel, working independently and putting effort into his writing and spelling.
3/4 Watkins
Toby, his excellent contributions to discussions.
Huxley, improved speed and accuracy in Quick Maths.
4/5 Williams
Emily, focussing on bettering her narrative writing skills.
James, enlightening the class with detailed explanations over a variety of topics.
5/6 Smithurst
Shahzaib, enthusiastic contributions to class discussions.
Kaya, always doing her best and being a safe, fair, and respectful learner.
Anna, being a quiet and determined learner who always does her best.
5/6 Dilger/Jeffrey
Ryan, his significant growth of musical skills. (Peter Eddleston)
Ryan, coming back to school with a smile and readiness to learn after a big holiday.
Sophie, her understated confidence and positive attitude.
Edmund, his maturity in dealing positively with an unfortunate series of events.
September 1 2023
Prep/1 Jenkin
Thea for showing the courage to tackle tricky problems in Maths!
Walter for cracking the code in his reading!
Ryan for making amazing growth in reading.
Prep/1 Corrigan-Foster
Sophia for amazing focus in her reading and spelling.
Konrad for making amazing progress with his reading.
Harry for showing his leadership in collaborating.
Gr 1/2 Parker
Luka for his application to his learning and his kindness towards others.
Lottie for being a great classroom helper.
Benjamin for working hard to develop a growth mindset.
Gr 2 Baird/Adderton
Filip for working hard to improve in all areas of his learning.
Freda for her positive and inspiring approach to learning tasks.
Max for always being willing to help others and show his strength of kindness in class
3/4 Burnett
Alex for your enthusiasm, encouragement and sharing your strategies in math.
Matthew for your bubbly personality and enthusiasm towards learning.
Casper for your dedication and enthusiasm towards all areas of your learning.
3/4 Watkins
Tawana for his quiet, steady and neat work.
Teddy for his amazing memory and sound logic.
Henry for coming back in one piece (and for his tan!)
4/5 Williams
Ollie for a great explanation of a mathematical concept.
Leila for continuing to become more adept at editing her work.
Logan for continuously dishing up wonderful treats and meals for 4/5W.
5/6 Smithurst
Jake for actively seeking feedback to improve his learning.
Ryuga for working hard in class in all areas.
Paige for striving for excellence in all areas of her learning.
5/6 Dilger/Jeffrey
Elijah for his increasing confidence in his own ability.
Stacey for continuing to set and meet high standards in her learning.
Sanjay for his improved listening skills.
Term Dates for 2023
| | |
| --- | --- |
| Term 3 | Tue 25th July to Fri 29th Sep |
| Term 4 | Mon 16th October to Thurs 21st Dec |
Tasmanian All Schools Track and Field Championships 2023
The 2023 Tasmanian All Schools Track and Field Championships will be held at St Leonard's Athletics Centre Launceston on Saturday 21st and Sunday 22nd of October 2023.
This competition is open to all school students in the U14, U16 and U18 Age Groups (as at 31 December 2023) and in 10yrs (born in 2013), 11yrs (born in 2012) and 12yrs (born in 2011) Age Groups.
For preliminary information about the event, click on the below link to the Athletics Tasmania website:
Entries for this event will open in late September 2023.
Community Notices
Sailing