16 August 2023
Principals Report
Watching our school Soccer World Cup – France vs Portugal.
This is a wonderful tradition that is organised and run by our student school leaders.
Student Agency
As part of our focus on Student Agency, students have been learning about SMART (Specific, Measured, Achievable, Realistic and Timely) goals. If students are involved in creating their own goals and working out the steps needed to achieve them, they are more likely to be more motivated and engaged in their own learning. Here are some of the goals from 3/4B -
New Projector
At last, we have our new projector in the Multi-Purpose Room. The projector is used for assemblies, Music lessons and other activities throughout the year. We have missed having one throughout last term.
A big thank you to the School Association for contributing to the funding of the projector. The School Association will be organising a movie night in the coming weeks to celebrate the new purchase.
Footsteps Dance
For the last two weeks the students have begun learning some dances which they will get to dance at the disco on the 31st August. We have 3 more weeks to go with our lessons. This is a great program that our school has been participating in for a few years. The students get a good work out learning the dances, need to follow instructions and visual movements, move in time with the music, repeat for memory and work on their spacial awareness. So much learning is happening here, even when dancing in their PJs on Pyjama Day

Pyjama Day
Last week the Community Connections Group ran their third fundraiser for the year – a Pyjama Day raising funds for the Cancer Council. Each term the Year 6 students involved in the Community Connections group plan a fundraiser thinking about worthy causes they would like to support and a fun activity students would enjoy doing. Winter is always a nice time to spend the day in comfy pjs.
Hello parents and guardians,
On 9th of August, we had a fundraiser for Cancer Council. Our goal was two hundred and fifty dollars, but we greatly exceeded the amount, passing four hundred dollars. We appreciate you and your child's support. Everyone had a splendid time and thoroughly enjoyed it. Thank you.
From the Community Connections Team.
Science Week
What some of our Kinders thought Science Week might be about.
Science Week is this week and the theme is- Innovation: Powering Future Industries. Our focus has been on designing solar ovens and today we had trialled them and shared our results. More information about our challenge in the next newsletter.
We also had some Young Tassie Scientists visit our P-2 classes. They shared information about Forensic science, Gems and Stress. Thank you, Ms Kelli Parker, for organising this excellent event for our students.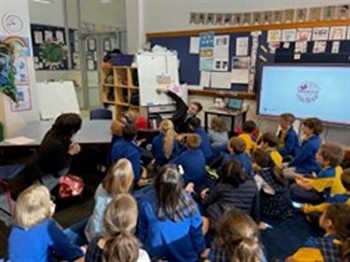 Terrapin Puppet Performance
'Terrapin is the centre of excellence for contemporary puppetry in Australia, creating puppetry-based performances for all ages, and touring worldwide.'
Last week the students were enthralled by the beautiful performance of The Riddle of Washpool Gully, a moving and creative show about resilience, family and imagination with simple set depicting the Australian bush. We always look forward to the excellent acting and puppetry skills of this renowned Tasmanian-based theatre.
Canteen
A big thank you to all our dedicated canteen volunteers. We only have 2 more weeks of volunteers for canteen this term.
Until we have volunteers for each Friday for the rest of term, canteen will not be able to go ahead from 18th August.
We understand how much everyone loves the canteen, but it cannot run without your support.
Parent Tip
Jo Waldon
Principal
Student Wellbeing Survey
Attention: Parents and Carers of students in Years 4 to 6.
Student Wellbeing and Engagement Survey
The wellbeing of our students is important to us - we want to hear how students feel, and think, about different things going on in their lives.
Those students in Years 4–6 at Albuera Street Primary School will be taking part in the Student Wellbeing and Engagement Survey. The results from this survey will help us get a picture of the current wellbeing of our students, and what we can do to improve future wellbeing for learning. The more students who take part, the clearer our picture will be.
The Student Wellbeing and Engagement Survey is part of the Department's Child and Student Wellbeing Strategy .
The details for the survey are:
When: August 28th to 31st
Who: All students in Years 4-6
What do I need to do: You and your child don't need to do anything. The survey will be done in class time and will not require your child to prepare in any way.
A letter with more information has been sent home with all Year 4-6 students. Below is a link to some Frequently Asked Questions. A form is also available at the school office to sign and return to the school if you do not want your child to participate in the survey.
If you would like further information, please contact Steve Jeffrey.
Thank you for supporting us to ensure that all our learners are safe, feel supported and are able to flourish, so they can engage in learning.
Important dates coming up:
Parents, grandparents and family members are invited to our Book Week Parade to be held on Thursday 24 August from 9.10am. Classes will parade from the main entrance of the school through the Northern Yard, then the Southern Yard, to enter our Multi-Purpose Room.
Family members are asked to stand on the outside (the non-school building side) of the witches hats/markers that will be place along the parade route. We ask that family members take photos as children walk with their class (we ask that children not stop for photos) and then leave after the parade; students and staff will then attend the assembly. Unfortunately we won't have room for the expected number of parents and family members in our Multipurpose Room. If the weather is terrible we won't proceed with the outdoor parade – please check Facebook.
Students are invited to come dressed as a character from a book and to bring that book along with them too (if they own it). In the interests of sustainability we ask that you use clothes and materials you or friends already have at home, rather than buying costumes for the occasion.

2023 Tasmanian Schools Triathlon Challenge
This year we are again inviting students from Years 3-6 to take part in the annual Tasmanian Schools Triathlon Challenge at Bellerive Beach. This is an awesome experience that has become a major event in Tasmanian schools' sporting calendar. A triathlon is an event that is made up of three sections: swimming, cycling and running.
Some basic information:
Date: Friday December 1st, 2023
Who: Students in Grades 3-6
What: Students can compete as an individual (completing all three sections themselves), as part of a team (2 or 3 students that divide the sections up) or both.
Cost: $30 per student, whether they do one or both events. ($25 for event entry and $5 for bus).
More information: Follow this link to the website:

To gauge interest and help us make decisions about the event, please follow the link below to register your interest by Monday August 21st.
Note: completing this survey is not an entry or an obligation to compete, it simply allows us to make decisions on how to proceed.
For further information, check the website or contact Steve Jeffrey at school.
Safeguarding News
Dear parents/carers
My name is Mark, and I am the Safeguarding Lead for the School.
As part of my role this year, I am responsible for disseminating information from the Department around Child Sexual Abuse and keeping children safe. This is a high priority of both the Department and the school. Throughout the term, there has been a lot of information around this issue.
As the year proceeds, I would like to share with you some of the material and resources. I intend to do this in the newsletter forum over the course of the year.
Below are some resources that are available to start conversations and seek further information around creating child safe environments.
START TO TALK ABOUT CHILD SAFE SPORT
Parents, carers, and sport organisations are being encouraged to talk about how they can create child safe environments through the Start to Talk national child safe sport awareness campaign.
The campaign was developed by Play by the Rules in response to recommendations from the Royal Commission into Institutional Reponses to Child Sexual Abuse which identified sport clubs as having an important role to play in the prevention and detection of abuse.
Play by the Rules provides information, resources, tools, and free online training to increase the capacity and capability of administrators, coaches, officials, players, parents, and spectators to assist them in preventing and dealing with discrimination, harassment, child safety, inclusion, and integrity issues in sport.
Visit the campaign website for information and resources for sporting clubs and parents, for example, A Parents/Carers Guide to Selecting a Safe Sporting Club.
E-SAFETY RESOURCES FOR PARENTS AND CARERS
As parents and carers, you play an important role in protecting your child from harm in the digital world.
Thankfully, there are many resources available to support your child to safely navigate this world and educate them to avoid harmful online experiences.
Online resources include advice sheets, home learning and family activities, webinars, and videos to help you talk with your children about online safety.
Here are just two recommended eSafety resources for further information and support:
eSafety Commissioner Australia – eSafetyparents
ThinkUKnow Australia – Resources for Parents and Carers
Nut Allergy – Reminder
We have a number of students in our school who are allergic to nuts and nut products. Exposure to nuts can trigger an allergic reaction and be life-threatening for these students, so please avoid sending nuts or nut based products to school. We aim to keep our school as nut-free as possible to keep our students safe.
New online information hub for families
Some exciting news! The Department for Education, Children and Young People has recently launched a new online information hub for families with school-aged children in Tasmania. Our new website has information to help you navigate your child's education, from birth all the way up to 18 years of age.
Visit our new webpage at Welcome to your child's Tasmanian education - The Department for Education, Children and Young People Tasmania (decyp.tas.gov.au)
Some of the things you'll find include
tips on how to support your child's learning at home
information to help you keep your child safe and well
a guide to explore courses for the career they want
school holiday and term dates.
We hope this website will be a valuable tool for you as you help your child navigate their education journey. We would love to know what you think of our new information hub for families. You can tell us by completing a quick survey on the webpage.
Launching into Learning
LiL will be on Thursday afternoon this year at 1.45 pm to 2.45.
Kindergarten 2024
Out-of-area expressions of interest for Kindergarten 2024 are now being excepted. Forms are available on the - Forms and Documents – on side panel with this newsletter.
Kindergarten Enrolment Form
COVID-safe behaviours reminder
COVID-19 and other respiratory illnesses (like the flu) are still circulating in Tasmania. The official COVID-19 risk level has been raised to 'Moderate'.
Together, we need to keep practising our COVID-safe behaviours to manage the risk.
Simple things we can do:
do not come to school if unwell – stay home and test
stay at home while you have symptoms, regardless of the result of a rapid antigen test (RAT)
cover coughs and sneezes and wash your hands with soap and water, or alcohol-based sanitiser
try to stay a reasonable distance away from others when you can
consider wearing a face mask if you wish to – they are readily available for use at the school.
All students should ensure they have access to a quantity of RATs. If you need RATs, please ask for them at the school office so they are in your home ready for use if symptoms develop.
If you have any questions or concerns, please do not hesitate to contact the school office.
For any COVID-19 enquiries, please contact the Tasmanian Public Health Hotline on 1800 671 738, or Department of Education COVID-19 Support Hotline at COVID19support@education.tas.gov.au or on 1800 816 057.
If you need support translating or interpreting this information, contact the Translating and Interpreting Service on 131 450.
Library
Premiers Reading Challenge - Week 8. Go into the draw for a $50 book voucher by submitting a book review or read some book reviews to find your next read. Go to Book Lists and Book Reviews - Department for Education, Children and Young People (decyp.tas.gov.au) for more details.
Larrikin House book club closes on 18th August. See Book Club – Larrikin House for book catalogue. Follow the prompts to order. Your individually packed order will arrive at the school by the end of term! Our school will earn 20% from all sales which will go towards filling our school library!
Thanks
Veronica
Canteen 2023
18 August 2023
Recess: Hummingbird Cake
Fruit Muffin: Blueberry
"Pizza" Meat and veg topping
(Vegetarian option available on request)
Lunch: Honey Soy Drumsticks with rice and greens
25 August 2023
Recess: Apple Pie
Fruit Muffin: Mixed Berry
Nachos
Lunch: Beef Casserole with Mash
Volunteers Required
Thanks to all those people who have put their name forward to help. I still need assistance on
August 25 1 Person
September 1 2 People
September 15 2 People
September 22 1 Person
September 29 2 People.
Please contact the office or me directly on 0417 559 920
Thankyou
Caron Summers
Canteen Helper
Please remember to choose the correct order date on the Qkr! App.
Entertainment Membership
Link below for entertainment book to purchase.
Masks update
Public Health has advised that from Monday 27 June 2022, face masks are no longer mandatory in schools and Child and Family Learning Centres. This is because of reduced COVID-19 cases in our community.
It's important to continue to:
stay at home if unwell, and get tested
practise COVID-safe behaviours such as frequent handwashing and sanitising
be up to date with your COVID-19 vaccinations
Students, staff and visitors are supported to continue to wear face masks if they choose to. Face masks are still available at our school if you need them.
When face masks are required
If you're a close contact , you are still required to wear a face mask indoors as per current Public Health advice.
From time-to-time our school might identify activities or situations where masks are required to be worn. We ask for your support when this happens and know that it is in the best interests of our students, staff and our school.
Our staff will continue to wear masks when working closely with students who are vulnerable to COVID-19.
If you have any questions or concerns, please contact us directly to discuss.
For more information about COVID-19, please visit the Tasmanian Government Coronavirus website or contact the Tasmanian Public Health Hotline on 1800 671 738, or Department of Education COVID-19 Support Hotline at COVID19support@education.tas.gov.au  or on 1800 816 057.
If you need support translating or interpreting this information, contact the Translating and Interpreting Service on 131 450.
Uniform Times
This year as we are setting times available for the purchase of uniforms.
Tuesdays: 2.30pm to 3.00pm
Thursdays: 8.30 am to 9.15am
Orders can be made and paid for over the phone and be ready to pick up at an arranged time if the above times do not suit you.
LEVIES REMINDER
Thank you to parents who have paid levies and to those who are making regular payments. Levies are now overdue, if you are experiencing difficulties with making payments, please contact Annette and discuss a payment plan. Payments can be made weekly, fortnightly or monthly.
Payment Options
BPay, Service Tasmania, Eftpos
Credit Card over the phone (6223 2268)
Cheque payable to Albuera Street Primary School
Levy Instalment Plan (Please contact reggett@education.tas.gov.au or 6223 2268)
Student Medications
It is a Department of Education requirement that all medications to be taken by students during the school day are to be passed into the office or teacher in charge of an excursion or camp. The medications require a signed doctor/pharmacist as well as parent permission form (these forms are available in the Forms and Documents panel in the newsletter or at the office). The medication is also to be in the original packaging so that staff know what they are administering. Thank you for your cooperation in this matter.
Medical Action Plans
Every child at Albuera Street Primary with a medical condition needs to supply an updated medical plan to the school each year, especially those with Anaphylaxis and Asthma. Staff from Albuera have been trained in Anaphylaxis using EpiPens and also in Ventolin administration for Asthma. If you are new to the school and your child has a medical condition please come into the office and collect an appropriate action plan form, or if you just have questions please don't hesitate to phone the school.
Vulnerable People Card Reminder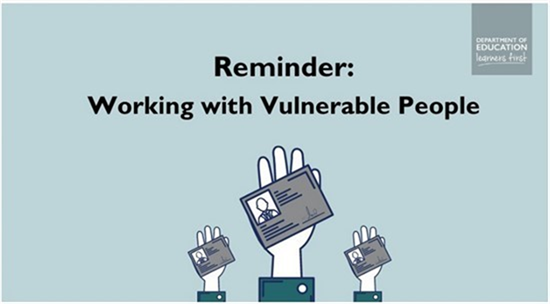 Sign In Requirements and Checks
New requirements for record keeping have been in effect from August 2018 which specifies that all sites are required to keep visitor sign in registers. All volunteers, external providers, contractors and visitors (where appropriate) must sign in using the visitor register.
A DoE site must request the RWVP card and perform a status check via the DoJ website each time someone presents at or attends a site in their respective capacity. The status check will return current information and indicate any conditions applying to a registration.
If a search fails to return information, this indicates a change in registration has occurred. DoE staff at the worksite must sign off on the visitor register to confirm that RWVP verification has occurred.
The Department requirement is that you must present your RWVP card EVERY time you sign in.
Information for those who need to apply for WWVP card
To volunteer at this school, you will be required to hold a "Registration to Work with Vulnerable People". It is extremely important that parent helpers and volunteers are registered and Albuera Street Primary School is recorded in your application.
How to apply for a WWVP Card
Complete the online application form. This is available from the website at

Chose Department of Education from the organisation drop-down box and also select Albuera Street Primary School from the location drop-down box. Please remember each time to volunteer at the school you need to bring your card each time.
After School Care
ASC is provided on site by Lady Gowrie Child Care Services (Ph: 6230 6806).
ASC is available from 3.00 pm to 6.00 pm each school day and 1.00pm – 3.00pm Thursday for Kinder.
Term Dates for 2023
| | |
| --- | --- |
| Term 3 | Tue 25th July to Fri 29th Sep |
| Term 4 | Mon 16th October to Thurs 21st Dec |
Community Notices