2 August 2023
Principals Report
Creating the Aboriginal flag as a school.
Each time we have a go at this for NAIDOC Week we get better. We are happy with this one 😊
Welcome back to Term 3
We have had a mild start to our new term and have many exciting and educational experiences planned. A reminder to ensure your child has a warm top in their bag, even if we are having milder weather – you never know when a colder snap might occur.
Keep a look out in the newsletter for information about upcoming events like Science Week, Book Week, Footsteps and Learn to Swim (Y3-5)
Check out our updates around our school –
Canteen –
A big thank you to all our dedicated canteen volunteers. We only have 2 more weeks of volunteers for canteen this term.
Until we have volunteers for each Friday for the rest of term, canteen will not be able to go ahead from 18th August.
We understand how much everyone loves the canteen, but it cannot run without your support.
NAPLAN reports –
Earlier this week students in years 3 and 6 will have brought home their NAPLAN reports. The report look is the same as previous years, but the 'bands' students were rated against have been changed to 'Needs Additional Support', Developing', 'Strong' and 'Exceeding'. Staff will have dedicated meeting time to analyse the data from our students in order to ensure we are supporting their needs. All students who have been deemed to need additional support are already on a Learning Plan specific to them. If you have any questions about your child's NAPLAN report, please talk to your child's teacher.
End of term fun and learning –
Our last week of term, like every other week, involves both learning and fun. We had 3/4W practicing their knotting skills that they had learnt earlier in the term in a team challenge to tie rope together and then pull the table to their group.
The Kinders made the most of a snowy Kunanyi to practice their sketching.
Our school Nurse – George.
Our wonderful school nurse, George, has various roles in our school. She can do hearing and vision checks as needed, screens our kinders, runs small group mindfulness sessions, teaches classes about the importance of good dental hygiene, sun care and consent, but also works with students to create mindfulness objects like these glitter jars made by our P/1 Devils.
If you have any concerns about your child's health – hearing, vision – referrals can be collected from school.
Art From Trash –
Numerous classes have contributed artworks for the annual Art from Trash exhibition and those classes visited the gallery last week to see their work on display and see what others have created. Check out our creative efforts:
Footsteps Dance
Our students participated in their first session of the Footsteps Dance program today. The students learn the choreography to a variety of dances over the next five weeks and it all culminates it them sharing their dance moves at an after-school disco on Thursday 31st August. More information will be forthcoming.
STEM activities
Our 5/6 team have been challenging themselves to create a marble run which knocks over 5 dominoes, changes direction at least three times, is over two metres long and has the marble end up in a cup. Students had to work in teams to plan, create and trial their marble runs. I had the pleasure of being the judge. I was impressed by their creativity, teamwork and how most were successful.
Reminder - End of the Day Pick Up –
We understand that parking is an issue around our school, especially at pick up time. We encourage, where possible, parents to park further away and walk (good way to get your steps up) or do an extra block or two when there are no spots. (I do wave at people patiently doing a couple of laps and we appreciate their thoughtfulness.)
Please refrain from parking or standing on the yellow lines near the crossing – this is a no standing zone.
Also, let's remember to be respectful of each other when waiting for a parking spot or trying to get out. A deep breath and waiting a moment or doing another lap will benefit us all in the long run.
Parenting tips: Teach your kid to be more considerate, caring
Since spoiled attitudes are learned, they can be unlearned. Just don't expect your child to appreciate your new parenting style. They'll likely be resistant at first, so take things slow and don't give in:
1. Say "no" without guilt.
Parents often believe that saying "no" decreases self-esteem, but research shows that kids who are raised with structure and less-permissive parenting have higher self-worth and feel more empathy towards others.
When you say "no," give a short reason to help them understand why: "Homework comes before playtime. This way, you can have fun without worry," or, "No playtime today because you have a cough and may be contagious. We don't want your friends to get sick."
2. Praise the right things.
If your kid is addicted to praise, try praising them when they do something for — or with — another person.
For example: "You and your classmate did such a great job on that science fair project," or, "Giving your old Lego set to the toy drive was very thoughtful. I love your kind heart."
This reinforces the importance of caring. So don't be quick to ask: "What did you get on the spelling test?" Instead, ask: "Tell me about one nice thing you did for someone today."
3. Boost gratitude.
Practicing gratitude helps children feel happier, cope better with adversity, and increases their life satisfaction.
Hold regular gratitude rituals with your children. Younger kids can draw things they're grateful for, and older kids can write their appreciations in a diary.
You can also take turns sharing appreciations at the dinner table or keep a shared family gratitude journal that everyone can write in.
4. Stretch waiting.
Research shows that being able to pause, wait and delay is highly correlated with future academic and financial success.
If you're on the phone and your kid wants your attention, signal: "Later!"
If your daughter wants that sweater now but forgot her allowance money, tell her: "Next time!"
If your son pushes his sister off of her chair so he can use the computer faster, say: "Wait!"
5. Point out insensitive actions.
Whenever your child does anything remotely inconsiderate, help them consider the other person's feelings: "How do you think your friend felt when you grabbed the candy from his hand without asking?"
Then ask, "What can you do to avoid those hurt feelings next time?" The right questions can help kids learn empathy and recognize how their spoiled actions affects others.
6. Focus on giving, not getting.
Find opportunities for your child to do things for others, like baking cookies for an ailing neighbour. Or identify a cause together so that they can experience the miracle of giving, like taking toys to a children's hospital.
When it comes to receiving, set limits on material items and stick to them. Teach your child how to accept gifts by rehearsing polite responses prior to the event: "Thank you. I really appreciate it."
Michele Borba, EdD, is a mother, educational psychologist, parenting expert, and author of "Thrivers: The Surprising Reasons Why Some Kids Struggle and Others Shine" and "UnSelfie: Why Empathetic Kids Succeed in Our All-About Me World."
Jo Waldon
Principal
Important dates coming up:
You are invited to our Book Week Parade!
Parents, grandparents and family members are invited to our Book Week Parade to be held on Thursday 24 August from 9.10am. Classes will parade from the main entrance of the school through the Northern Yard, then the Southern Yard, to enter our Multi-Purpose Room.
Family members are asked to stand on the outside (the non-school building side) of the witches hats/markers that will be place along the parade route. We ask that family members take photos as children walk with their class (we ask that children not stop for photos) and then leave after the parade; students and staff will then attend the assembly. Unfortunately we won't have room for the expected number of parents and family members in our Multipurpose Room. If the weather is terrible we won't proceed with the outdoor parade – please check Facebook.
Students are invited to come dressed as a character from a book and to bring that book along with them too (if they own it). In the interests of sustainability we ask that you use clothes and materials you or friends already have at home, rather than buying costumes for the occasion.
New online information hub for families
Some exciting news! The Department for Education, Children and Young People has recently launched a new online information hub for families with school-aged children in Tasmania. Our new website has information to help you navigate your child's education, from birth all the way up to 18 years of age.
Visit our new webpage at Welcome to your child's Tasmanian education - The Department for Education, Children and Young People Tasmania (decyp.tas.gov.au)
Some of the things you'll find include
tips on how to support your child's learning at home
information to help you keep your child safe and well
a guide to explore courses for the career they want
school holiday and term dates.
We hope this website will be a valuable tool for you as you help your child navigate their education journey. We would love to know what you think of our new information hub for families. You can tell us by completing a quick survey on the webpage.
Launching into Learning
LiL will be on Thursday afternoon this year at 1.45 pm to 2.45.
Kindergarten 2024
Out-of-area expressions of interest for Kindergarten 2024 are now being excepted. Forms are available on the - Forms and Documents – on side panel with this newsletter.
Kindergarten Enrolment Form
COVID-safe behaviours reminder
COVID-19 and other respiratory illnesses (like the flu) are still circulating in Tasmania. The official COVID-19 risk level has been raised to 'Moderate'.
Together, we need to keep practising our COVID-safe behaviours to manage the risk.
Simple things we can do:
do not come to school if unwell – stay home and test
stay at home while you have symptoms, regardless of the result of a rapid antigen test (RAT)
cover coughs and sneezes and wash your hands with soap and water, or alcohol-based sanitiser
try to stay a reasonable distance away from others when you can
consider wearing a face mask if you wish to – they are readily available for use at the school.
All students should ensure they have access to a quantity of RATs. If you need RATs, please ask for them at the school office so they are in your home ready for use if symptoms develop.
If you have any questions or concerns, please do not hesitate to contact the school office.
For any COVID-19 enquiries, please contact the Tasmanian Public Health Hotline on 1800 671 738, or Department of Education COVID-19 Support Hotline at COVID19support@education.tas.gov.au or on 1800 816 057.
If you need support translating or interpreting this information, contact the Translating and Interpreting Service on 131 450.
Library
Premier's reading challenge week 5 (week 1 term 3).
A reminder that every book review submitted goes in the draw to win a $50 book voucher, so have a go! PRC for students - Department for Education, Children and Young People (decyp.tas.gov.au)
Read some book reviews: prep-2 Tasmanian Premier's Reading Challenge - 2023 Book Reviews - Prep - Year 2 (office.com)
3-6 Tasmanian Premier's Reading Challenge - 2023 Book Reviews - Years 3-6 (office.com)
Larrikin Book Club opens on 25th July until 18th August Book Club – Larrikin House Order online and books are delivered to the school
Canteen 2023
04 August 2023
Recess: Apple Crumble and custard $2.50
Fruit Muffin: Raspberry $2.50
Cheese Muffin $2.50
Lunch: Fried Rice $6.50
11 August 2023
Recess: Banana Cake $2.50
Fruit Muffin: Strawberry $2.50
Zucchini Slice $2.50
Lunch:
Minestrone Soup $6.50
Volunteers Needed
The canteen CAN NOT and WILL NOT operate without the kind assistance of parents and carers. Currently there are very few offers to help this term. Without volunteers the canteen will need to be cancelled. Usually help is required from 9:00 to 2:00ish, however, shorter time periods can be accommodated. If you can help on any Friday, please contact the office or me directly on 0417 559 920. A working with vulnerable persons card is essential.
Caron Summers
Canteen Manager
Canteen Helper
Please remember to choose the correct order date on the Qkr! App.
Student Voice
Grade 2
The Grade 2 Bilbies Art from Trash
Last term our class entered the Art from Trash exhibition. We made our collaborative artwork last term and visited the Long Gallery at Salamanca to see our art in the exhibition. We walked to the gallery with Ms Parkers class and enjoyed a lovely day viewing the exhibition and the enjoying our recess in the winter sun at Princes Park. Here are our favourite moments about the exhibition and some photos to share including our artwork, Cat V's Bilby
At the Art from Trash exhibition at the Long Gallery, my favourite was the dog with the rose in it's mouth. – Edie
My favourite thing at the exhibition was the Bilbys V's Cats. – Billie
My favourite exhibit is the mouse on the carousel. – Aaron
I liked how the devil was wearing soccer boots and the pitch fork because when you pressed the button it moved. – Sebastian
How we got there? First we walked down Sandy Bay Rd then we went down Kelly's Steps and after that we were there. – Stella
My Favourite exhibition was the mouse on the carousel. – Max. R
My favourite art was the devil and the table. Under the table there were machines. – Filip
My favourite exhibit was the snakes because it is cool how it was made. I like it because it is made out of cardboard and milk cartons. – Claire
Art from Trash at the Long Galley. My favourite exhibition was the bubble dress with the ducks on the hat and on the dress. It was so cute. I wish I could buy it but it is too expensive plus it was too big for me. Anyway I just moved on to find the shell. – Lettie
My favourite thing in the exhibition was when the devil comes to tea because it is cool. I liked the mirror of wonder: Pikachu's quest to rescue the ocean guardian because it is cute. – Anna
I liked the mouse. It was very cool. I liked it. – Paddy
My favourite exhibit was the Remembrance of platypus that died in the documentary – Mentre called the platypus guardian. – Audrey
At the art from trash exhibition my favourite was the satan one. – Kenshin
I liked when the devil comes to tea because if you press the button it will move. I would describe it as cool Awesome fantastic. – Millie
We went to the art from trash exhibition. My favourite thing was the one with the devil. – James
The model is black as night. It had a handbag and a dress. – Lottie
I liked the Demon and the fork pitch and the soccer boots it was connected to a machine with other cool stuff. – Hugh
My favourite bit in the exhibition was a series of creations named chimaera, and they were creepy but also really interesting because they were parts of bugs attached to other parts of bugs. I loved it SO MUCH. – Tobias
My favourite part was the chair that like has a forest growing out of it. – Evan
I liked the mouse riding on the carousel. – Asha
Last Friday I went to the long gallery. I like the rings on top of the pillows. – Theo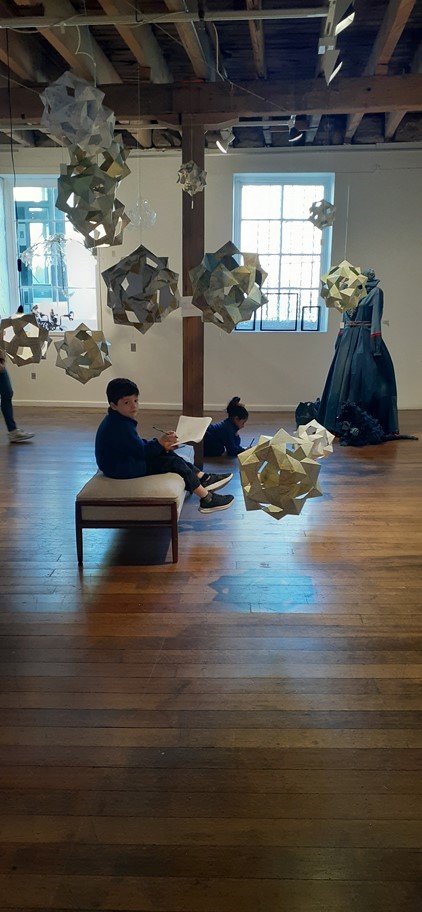 Prev
Showing images
1 - 8
of 12
Next
Grade 4/5W
Art From Trash – 2023
45W visited Salamanca Arts Centre and enjoyed perusing all the exhibits that were this year's Art From Trash. Here are the students' words about their visit …
Art From Trash Exhibition
On the 26/07/23, 4/5W walked to the Salamanca Arts Centre. When we got to the Art From Trash, it was amazing how much effort people thought about their artwork. I wonder how much creativity the artist put into their creations?
My (Ellie) favourite piece of trash was a wooden picture frame with teacups with fake plants and smashed China attached. My (Mia) personal favourite was an umbrella made entirely out of glass lenses from glasses. My (Logan) personal favourite was the sculpture that resembled 40K Warhammer. It was full of machinery.
After we had a little look around, we had to choose an artwork we would like to draw, and some people added colour.
So, if you would like to come to see the fantastic artworks, it is open to the public until the 30th of July, 10am till 5pm.
By Mia K, Ellie & Logan
The Art from Trash Exhibition
Well, all I can say is that it was an amazing experience to see what
creations people could make from trash, don't you agree Leila?
Yes, Coco, I definitely agree, and they must have had to put a lot of thinking into their pieces of artwork. I agree, and I especially liked the colourful feather hats because one of the dance academy's wore these hats which looked sensational and were a huge success.
The hats were beautiful but what stood out the most in my opinion was the plant music piano. Because it was amazing how the person or people who made it had a plant on top of the piano, with a clip connected to the piano which was put onto the plant. Which made music from the roots of the plant.
Wow Leila, that is so fascinating that someone could put in the time to make something unimaginable like that! And there were way more magnificent art works, which is still at Salama Art from Trash.
Art From Trash
Remember when we walked into the building the first, thing I liked was World War seven.
What was your favourite thing? My favourite thing there was Kelly the koala.
There were heaps of expensive things there and ours was only 30 dollars.
If I had to pay for the most expensive thing there I would flip like a pancake.
I know 15,000 It's a lot of money just for lights, right?
What was your second favourite?
The crocodile was my second favourite.
What was yours?
Mine was the cat called Pikachu.
Cool, I liked the umbrella made, out of glass lenses.
That one was cool too.
By Marley & Charlotte
Art from trash
On the 26th of July 4/5 Williams went to art from trash and there were many amazing paintings, sculptures and many other amazing works of art. There were many pieces of art from Albuera street primary that were made by the students of different classes.
Ollie, James M & Jingyu
Art From Trash Excursion
When we arrived at Salamanca to see the Art from Trash, I didn't think that all the art would be that good but, WOW the art was really, good!
Some of the arts were very creative.
Yes, and my favourite piece was "Summer" I thought it was very creative. What was your favourite Tanay?
Mine was the "The Daily Grind" I thought it was creative too and it looked like they put a lot of effort into it.
Mine was a woman's torso with flowers on it! What did yours look like Tanay?
Mine looked like a businessman and he put his body in a mince maker I thought it was cool.
Did you know we are going to sell our Art From Trash? And if we sell it, Mr Williams is going to get ICE CREAM for us!!!
Some of the arts were pretty expensive. There was one that costed $15,000 dollars.
Whoa! That is really expensive Tanay!
On the way back to school, we walked back, and Mr Williams talked about our school in the 1800's and we arrived back at school.
By Tanay & An
Art From Trash
James: When we first went into to the Art From Trash exhibition, the first thing I noticed was the chair made from teddy bears.
Boeing: When we got to the Art From Trash, I drew a picture of the glass umbrella.
I thought it was cool that it was made from glass.
James: Yeah, I also found that interesting. But, I also liked the neon rings.
I drew a picture of a mannequin head with a red veil and a lot of fruit, including oranges and cucumbers.
Boeing: I drew a picture of an item called Magical Recycling, and we saw lot of teddys too, and that was so cool.
James O & Boeing
Art From Trash
Lucy - My first thoughts were, I thought the place was old fashioned with amazing things that were made from trash.
Jikei - Well, that was a good start, Lucy. My first impression was that I was surprised that they spent such a loooooong time making those artworks, and how pretty and interesting it was.
Now these are our favourites from the art gallery.
Lucy - Personally, my favourite part of the Art From Trash was the umbrella made from acrylic. I liked it because it looked interesting, and it will blow your mind in how much effort was put into it and how cool it was.
Jikei - Well, that was umm… cool, Lucy. Anyway, my favourite one is the one that has three birds on a chair. I liked it because it showed where the birds came from.
Lucy- I recommend you going there because it's a chance for you to see what people do with used stuff and how you can reuse them.
I agree with you Lucy, it is a great chance for you to see great art from recycled materials. And, I am going to say It was a great experience for you to remember. So, what are you doing? Come on and go and try!
By Lucy & Jikei
Art From Trash
From the moment our class stepped in the room, we could tell this was going to be great! The first thing that a lot of us sore was the dragon made from carboard boxes. Then we all sat down to hear the rules. Then we all looked around in groups.
We kept trying to find our art from trash panting. Then one of us got distracted and wondered into a different place (Patrick) and soon we all got distracted from trying to find our piece, but somehow, we found it next to this cool piece of art that was robotic.
Then one group of us sore this amazing light rings that kept changing colour ever second. There was even an umbrella that was made out of glass. -Patrick
Another group went to the back to see these paintings my and lucy drew an astronaut painting, but we also saw the ring lights and umbrella the umbrella one was made by Mr Williams sister-in-law which I thought was cool because Mr Williams talked about it, but he did not know she was going to make it which was very interesting -Mia.
But the thing that was the coolest, in my opinion, was the Plant playing the piano. I mean it literally was playing the piano with two wires attached to it then to a speaker. Then me and my friends went and found a picture of what I think is a Peacock made from cut out pieces of boxes. I thought it was cool, so I drew it in my sketch book. -Patrick.
And then, after around an hour, we sat down, showed our artwork, and then we left to go to school -Mia.
By Mia and Patrick
Art From Trash
When we arrived at the art gallery, a man greeted us and told us about what we could touch. First, we walked around and chose 1 or 2 favourite artworks. My (Shrish) favourite one was the 'personal apocalypse monitor'. I liked it because it looked cool with all the random things on it.
And my favourite (Kira) was a cat painting with clay on it. The artist was called Dorothy, and they named the artwork Pikachu. I also liked the decorative hats with feathers.
I really think someone who likes art should go there.
Kira & Shrish
Art From Trash
When we got to the art museum, a man greeted us and told us a few rules. Then we had a look around for a favourite piece of art. Mine was a tree with bugs on it with a piece glass covering it. – Emilia
Yeah, and my favourite was a cool exhibit of something that looked like it came straight out of World War 7. There were all these robots fighting each other. There was also this building, that looked like the future FBI. – Louie
There were so may cool masterpieces there. For example, there was an umbrella made of acrylic lenses, a chair with teddy bears all over it, and much more. – Emilia
That's right, there were lots of interesting things like that. After we finished looking around, we took a group photo in front of our masterpiece. After that we said thanks to the person running the museum and we then left. – Louie
By Emilia & Louie
Our Experience at the Art From Trash
Exhibition
On the 26/7/23 4/5W went to the art from trash exhibition. As soon as we entered the room everyone's eyes were darting around the room looking at all the wonderful art pieces. We sat down and a man came and told us about the exhibition, and then Mr Williams explained that we would be choosing one or two art pieces to sketch. Then all of us went around the room to find an art piece to sketch. After a few minutes everyone had chosen what they wanted to sketch and were sitting down copying them. Once most of us had finished we all went to sit down again and shared our work. We then had a final look around and headed back to school after an hour there.
Some of our favourite art pieces were called: Summer, A Second Chance, The Daily Grind and the Kelly Koala.
By Emily and Vivienne
The Festival of Voices
The Festival of Voices experience was phenomenal, but there were lots of challenges we had to overcome.
It took six weeks of forty-minute rehearsals every Friday at school. This is where we learnt, practiced, and discovered the meaning of the songs. The songs we sang were called Baltic, Icarus, Find the way home, Oye, How to Make a Cloud, and I Sing Because I'm Happy.
After six weeks of rehearsal, we went to the Federation Concert Hall to practise the songs on stage with the other choirs. The choirs that sang with us were St Mary's Primary, Friends Primary, Crescendo, Young Voices of Hobart, and St Virgil's College.
On the first day, we went over the songs, specifically practising the tricky bits. On the second day, we practised the songs with the Tasmanian Youth Orchestra. We sang two songs with the orchestra, these being Baltic and Icarus. What a huge sound it was from all the combined choirs and an orchestra!
On the night we were all excited and a bit nervous. There were also guest children's choirs from NSW and Victoria who sang in the concert. When we were singing our last song, I Sing Because I'm Happy, everyone sang along and clapped. We even did it twice due to the excitement!
Overall, it was super fun. We thank the orchestra, our two conductors, Claire Preston and Paul Jarman, and the teachers that taught us, took us over the two days and/or supervised us on the night - Mr Williams, Ms Burnett, Mrs Vickerman, and especially our music teacher, Mr Eddleston.
By Louie, Tanay, Emily and Emilia
4/5 Williams
Entertainment Membership
Link below for entertainment book to purchase.
Masks update
Public Health has advised that from Monday 27 June 2022, face masks are no longer mandatory in schools and Child and Family Learning Centres. This is because of reduced COVID-19 cases in our community.
It's important to continue to:
stay at home if unwell, and get tested
practise COVID-safe behaviours such as frequent handwashing and sanitising
be up to date with your COVID-19 vaccinations
Students, staff and visitors are supported to continue to wear face masks if they choose to. Face masks are still available at our school if you need them.
When face masks are required
If you're a close contact , you are still required to wear a face mask indoors as per current Public Health advice.
From time-to-time our school might identify activities or situations where masks are required to be worn. We ask for your support when this happens and know that it is in the best interests of our students, staff and our school.
Our staff will continue to wear masks when working closely with students who are vulnerable to COVID-19.
If you have any questions or concerns, please contact us directly to discuss.
For more information about COVID-19, please visit the Tasmanian Government Coronavirus website or contact the Tasmanian Public Health Hotline on 1800 671 738, or Department of Education COVID-19 Support Hotline at COVID19support@education.tas.gov.au  or on 1800 816 057.
If you need support translating or interpreting this information, contact the Translating and Interpreting Service on 131 450.
Uniform Times
This year as we are setting times available for the purchase of uniforms.
Tuesdays: 2.30pm to 3.00pm
Thursdays: 8.30 am to 9.15am
Orders can be made and paid for over the phone and be ready to pick up at an arranged time if the above times do not suit you.
LEVIES REMINDER
Thank you to parents who have paid levies and to those who are making regular payments. Levies are now overdue, if you are experiencing difficulties with making payments, please contact Annette and discuss a payment plan. Payments can be made weekly, fortnightly or monthly.
Payment Options
BPay, Service Tasmania, Eftpos
Credit Card over the phone (6223 2268)
Cheque payable to Albuera Street Primary School
Levy Instalment Plan (Please contact reggett@education.tas.gov.au or 6223 2268)
Student Medications
It is a Department of Education requirement that all medications to be taken by students during the school day are to be passed into the office or teacher in charge of an excursion or camp. The medications require a signed doctor/pharmacist as well as parent permission form (these forms are available in the Forms and Documents panel in the newsletter or at the office). The medication is also to be in the original packaging so that staff know what they are administering. Thank you for your cooperation in this matter.
Medical Action Plans
Every child at Albuera Street Primary with a medical condition needs to supply an updated medical plan to the school each year, especially those with Anaphylaxis and Asthma. Staff from Albuera have been trained in Anaphylaxis using EpiPens and also in Ventolin administration for Asthma. If you are new to the school and your child has a medical condition please come into the office and collect an appropriate action plan form, or if you just have questions please don't hesitate to phone the school.
Vulnerable People Card Reminder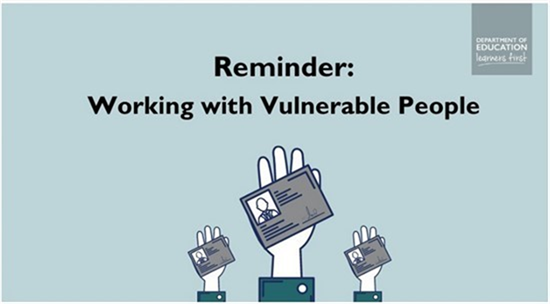 Sign In Requirements and Checks
New requirements for record keeping have been in effect from August 2018 which specifies that all sites are required to keep visitor sign in registers. All volunteers, external providers, contractors and visitors (where appropriate) must sign in using the visitor register.
A DoE site must request the RWVP card and perform a status check via the DoJ website each time someone presents at or attends a site in their respective capacity. The status check will return current information and indicate any conditions applying to a registration.
If a search fails to return information, this indicates a change in registration has occurred. DoE staff at the worksite must sign off on the visitor register to confirm that RWVP verification has occurred.
The Department requirement is that you must present your RWVP card EVERY time you sign in.
Information for those who need to apply for WWVP card
To volunteer at this school, you will be required to hold a "Registration to Work with Vulnerable People". It is extremely important that parent helpers and volunteers are registered and Albuera Street Primary School is recorded in your application.
How to apply for a WWVP Card
Complete the online application form. This is available from the website at

Chose Department of Education from the organisation drop-down box and also select Albuera Street Primary School from the location drop-down box. Please remember each time to volunteer at the school you need to bring your card each time.
Sickness
Parents/carers are reminded to advise the school office if their child is unable to attend school due to illness or any other reason.
By phone (62232268) leave a message anytime on the answering machine.

Schoolzine – click on the absentee tab
A medical certificate is required if a child is absent due to illness for 5 days or more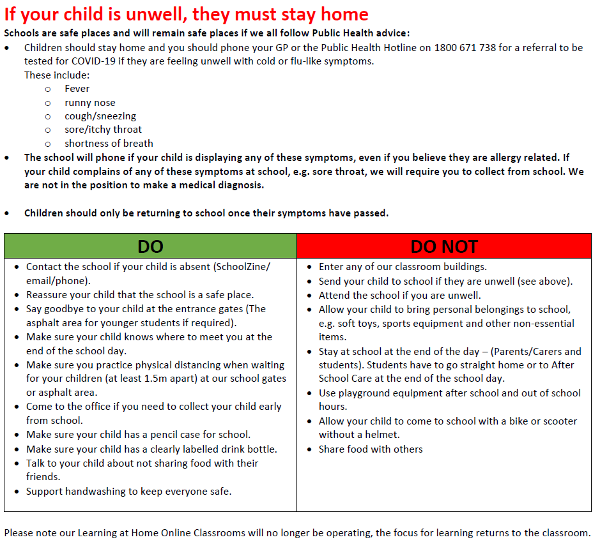 Nut Allergy – Reminder
We have a number of students in our school who are allergic to nuts and nut products. Exposure to nuts can trigger an allergic reaction and be life-threatening for these students, so please avoid sending nuts or nut based products to school. We aim to keep our school as nut-free as possible to keep our students safe.
After School Care
ASC is provided on site by Lady Gowrie Child Care Services (Ph: 6230 6806).
ASC is available from 3.00 pm to 6.00 pm each school day and 1.00pm – 3.00pm Thursday for Kinder.
Merit Certificates
Prep/1CF
Juliette for sharing her zest for life with her class and teachers.
Toby for his kindness to others and trying his best.
Isobel for using her strength of courage every day at school.
Prep/1J
Willow for being a leader in our class during NAIDOC week.
Thea for sharing her maths strategies with the class.
Walter for making great progress in his reading.
Grade 1/2P
James for working hard to always do his personal best.
Hazel for always going out of her way to be a helpful class member.
Aaron for always being a kind, respectful and hard-working student.
Grade 2
Billie for always being prepared to go the extra distance to help others.
Millie for her strengths of kindness, leadership and zest.
Grade 3/4B
Christian for working hard and putting effort into all of his tasks.
Adia for being kind, respectful and thoughtful to others.
Alex for sharing his enthusiasm, eagerness and joy of learning.
Grade 4/5W
Ellie for her great focus and hopes to better her best.
Kira for always displaying her zest for life.
Ollie for displaying his ability to pay attention for long periods of time and perform at his best at F.O.V.
Grade 5/6DJ
Kiara for being a kind, cheery and considerate classmate.
Lachlan for always being willing to try new things.
Vuthyka for her contribution to class discussions.
Grade 5/6S
Euan for his excellent focus when putting together his portfolio.
Rasesh for always doing his best and his positive attitude to learning.
Luke for being a kind and respectful class member.
Term Dates for 2023
| | |
| --- | --- |
| Term 3 | Tue 25th July to Fri 29th Sep |
| Term 4 | Mon 16th October to Thurs 21st Dec |
Community Notices